Customer Testimonials
At Pumpkin Fine Cars & Exotics, our customers are our highest priority and it is our goal to provide them high quality vehicles at great prices. Based on Franck Freon's experience, our thorough Pumpkin Certification process and Franck's approach of fair and honest dealings, we are able to achieve this goal. But don't take our word for it, read what our satisfied customers are saying about us!
Gina Tubertini-Demaria from Wildwood, New Jersey
"My experiences with Franck and his team, at Pumpkin Fine Cars & Exotics, have been wonderful! The thing I most want to convey to potential customers is that Franck and the team are honest and trustworthy. I have the most confidence in getting a great car at a good price. I highly recommend Pumpkin Fine Cars to everyone in the market to purchase a car."
Happy New Year!
Gina Tubertini-Demaria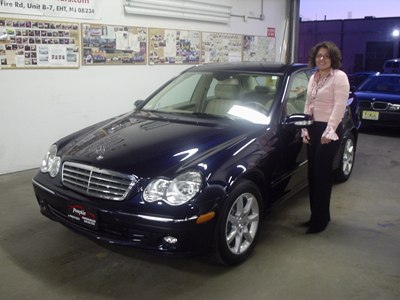 Ellen Hasson from Linwood, New Jersey
"Expecting our third child at about eight months pregnant, we decided to purchase our first pre-owned vehicle from Franck Freon at Pumpkin Fine Cars & Exotics, LLC. Prior to this we had only bought new cars, so as you can imagine, we were clueless and hesitant on who to trust and how to choose the best pre-owned vehicle for our family. Franck made the transition so easy for us. We were interested in a larger vehicle for our growing family and were fairly certain that we wanted the same make that we already owned. Franck took over for us and relieved all of our anxiety. He found the perfect Lexus LX470 for our family of five and sold our smaller Lexus SUV. All of the transactions went so smoothly, Franck took care of everything. It's now been seven years and we've been pleasantly surprised ever since the day we decided to put our trust in Franck and Pumpkin Fine Cars & Exotics, LLC. Thank you for all that you've done to make it such a pleasant experience and we look forward to working with you again in the future!"
Sincerely,
Ellen Hasson
Dino Martino from Erma, New Jersey
"It was a nice buying event at your place. The price was right and the car was clean. It was a nice touch that you put gas in it, in todays world of selling used cars. You also found a manual in one day, thats right one day. You do what you say and that is old school. I guess it is the euro in ya! Well, thanks again for the nice experience while buying a pre-owned BMW. Oh, the picture taking is a very good thing! I only had that done once before at a dealer many years ago. Tell the German and the Italian dudes right on!"
More biz to come,
Dino Martino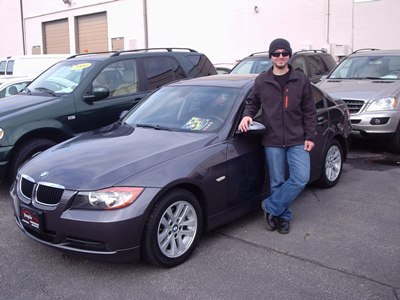 Lisa Mazza from Egg Harbor Twp, New Jersey
"I Think Franck Freon is a great guy! One reason being, before he sells you a car, he has his friend Darrell, owner of Darrell's Auto Repair, go over the cars to make sure they are in working order and safe to drive. When he sells you something you know that you are getting a good deal. There is no other place to go as he doesn't pressure or rush you. Also, if he doesn't have what you want he will do a special order for you. I recommend everyone buy from Franck and his staff as they treat you like one of the family, especially Franck. Heck, I have already bought three vehicles from him. "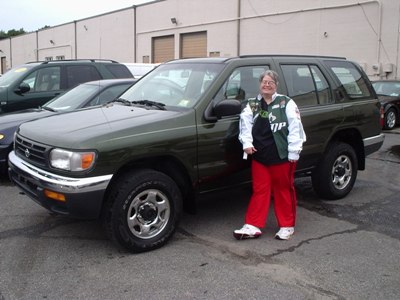 Darryl & Angie Mobley from Galloway, New Jersey
"For my 50th birthday, my husband surprised me with a beautiful black Mercedes from Pumpkin. He snuck it in the garage while I went for an early morning walk. Boy was I shocked when I got back home! I love my new car (I love my husband more)! My car rides like a dream! (so does my hubby lol!)

I met Franck and Amanda at the dealership and they were super nice. That goes a long way in doing business these days. I will recommend Pumpkin to anyone who is looking for a good car and quality customer service. "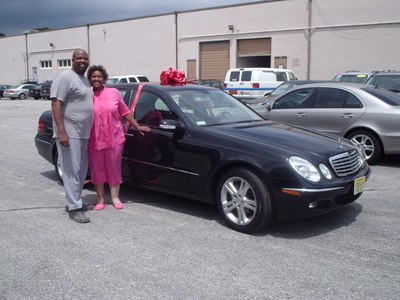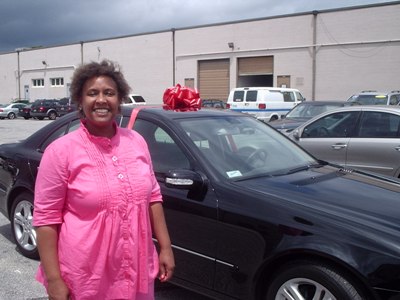 Zachary Rosenbaum from Philadelphia, Pennsylvania
"My experience with Pumpkin - Let me just say it was the best car buying experience I've had. I may have only bought one other car in my lifetime but working with Brian, Frank and Amanda was an easy and simple process. I say quick because I was so excited to get the car... Once I test drove it I was practically sold. They could feel my excitement and moved likewise as fast to help me out to get the car in about 5 days, I think. The price was fairer than I had seen in three states (I looked for a number of weeks) and yet Brian still negotiated to help me out. Probably the best part was that I didn't feel like anyone was trying to sell me the car. I think Brian actually said, "I'm not a car salesman". That's exactly what I wanted - just someone to show me the car and talk to me honestly and that's what I felt in speaking with everyone at Pumpkin. To top it all off, Amanda came and picked me up at the train station on a miserably rainy day, which by the way did not affect the drive home!

Everything with the car is going awesomely!!! 'Awesomely' may not be a word but there are no real words to describe it. :)) I love driving to work now! Actually, I love driving anywhere... Honestly, If Frank is still selling cars in, ohhh, 10 years or so, I will have to stop by to test drive another car. Thank you all for your help and assistance with my "first" car purchase! "
Sincerely,
Zachary Rosenbaum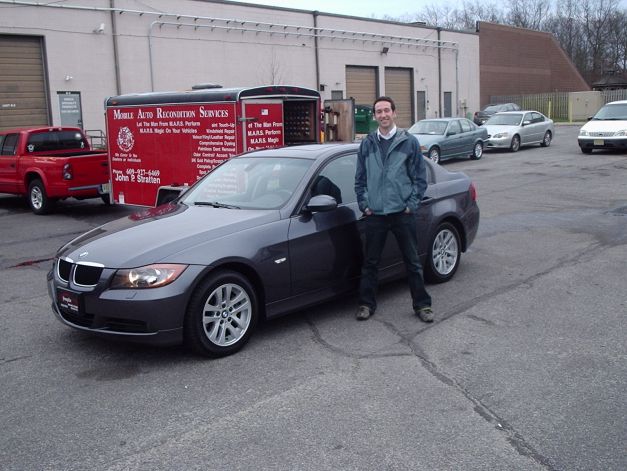 Ann Maguire from Egg Harbor Twp, New Jersey
"For the very first time, I had a wonderful experience purchasing a car. Franck Freon and his staff, at Pumpkin Fine Cars, were incredibly efficient and friendly. I would highly recommend purchasing a car from Pumpkin as I plan on visiting him again for my next new Honda!"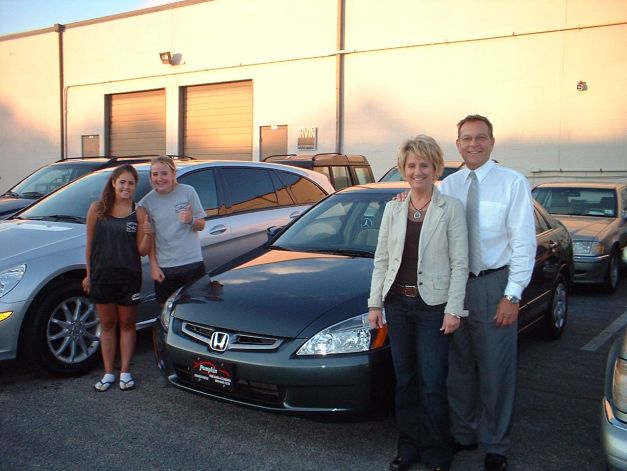 Rocco Pepino from Atlantic City, New Jersey
"I can highly recommend Pumpkin Cars when purchasing a high-end import. My experience with Franck and his staff was flawless. I asked Franck to locate a special vehicle for me to purchase and he did exactly that. I'm totally happy with Pumpkin and would definitely buy from them again."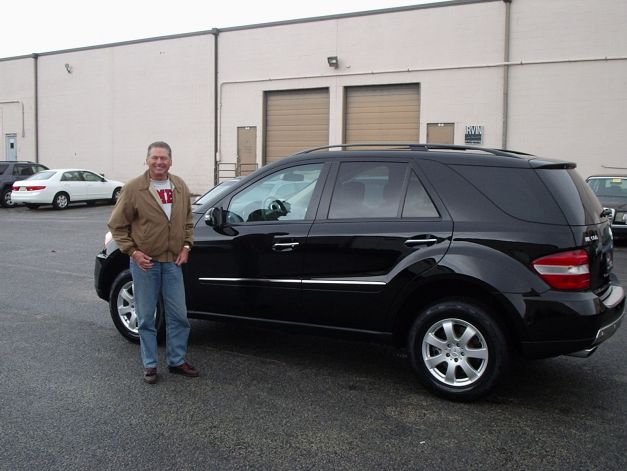 James McDevitt from Smithville, New Jersey
"There is a song by Lionel Ritchie called (Easy as Sunday morning). That is how I feel about Pumpkin Fine Cars. Franck Freon and his staff have created an unconventional auto enterprise in South Jersey, the likes of which are only found in the major cities of California, New York and Florida. It is truly a treat to go and see what exotic cars Franck has found to display at his showroom . As a bartender, at first glance, the cars seem out of my price range but I believe Franck's passion to see these cars on the road makes him price each car to be affordable, even for me. So thanks, Franck and staff, for making my recent purchase as Easy as Sunday Morning.

P.S. Hopefully I will soon be ready for that Boxster S."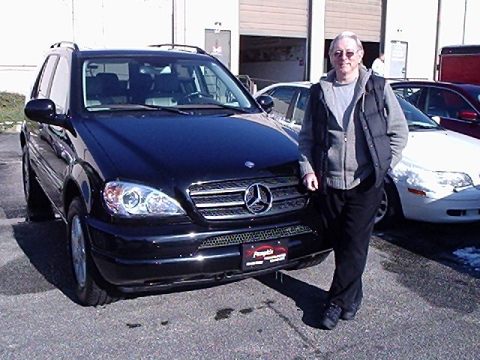 Dominick Pagano from Colonia, New Jersey
"Franck,

My sincere thanks to you, Gina, Amanda, Brian and John for everything you did to make this the smoothest automobile purchase I've ever made! You delivered exactly what I was looking for at a very reasonable price, and saved me the time and stress usually associated with purchasing a vehicle. It's no wonder Pumpkin comes so highly recommended - the others could learn from you. I will confidently encourage my friends and associates to visit Pumpkin and look forward to seeing you again for my next purchase. "
Thanks again!
Dominick Pagano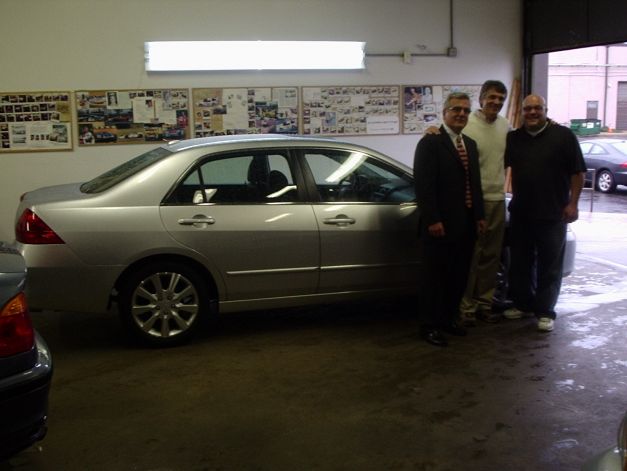 << prev
- page 8 of 10 -
next >>
Contact us if you have any questions.