Customer Testimonials
At Pumpkin Fine Cars & Exotics, our customers are our highest priority and it is our goal to provide them high quality vehicles at great prices. Based on Franck Freon's experience, our thorough Pumpkin Certification process and Franck's approach of fair and honest dealings, we are able to achieve this goal. But don't take our word for it, read what our satisfied customers are saying about us!
Robert Matarazzo, Professor from Garden City, New York
"Franck,

I can say without fear of contradiction, that in forty years of automobile purchase and subsequent usage, I have never enjoyed an automobile such as the Mercedes Benz purchased from Franck Freon and his most accommodating staff. From my initial conversations with Franck through personal contact and acquisition, all were pleasant, extremely professional, honest and accommodating. Alfred is an astute and pragmatic individual and those qualities were patently evident in my initial and subsequent dealings with him. Everyone else, including Amanda exemplified all of the foregoing. I can assure you that, I will purchase my next automobile from Pumpkin and I have already made several recommendations to friends and family echoing all of the aforementioned.
"
Thank you,
Robert Matarazzo, Professor
James Barrett from Croton on Hudson, New York
"My experience with Pumpkin Fine Cars has been so different from every other car dealer. It is not the high volume, fast talking sales environment that one would be used to. You actually get personal attention without be crowded and feeling pressured into buying. It's small but intimate and in a discreet and modest location. Walking in there, you almost feel like you're part of a very special private club, like part of the "in" crowd. It is tucked away in a business complex with very little attention drawn to it. No big flags or signs or rows and rows of cars. I firmly believe that this type of business can be the way of the future, people who truly care selling something they truly love which in turn gives off the comfort of knowing that you are buying something special. Franck is similar to a pet owner who loves their pet. I can't imagine ever buying from another dealer. "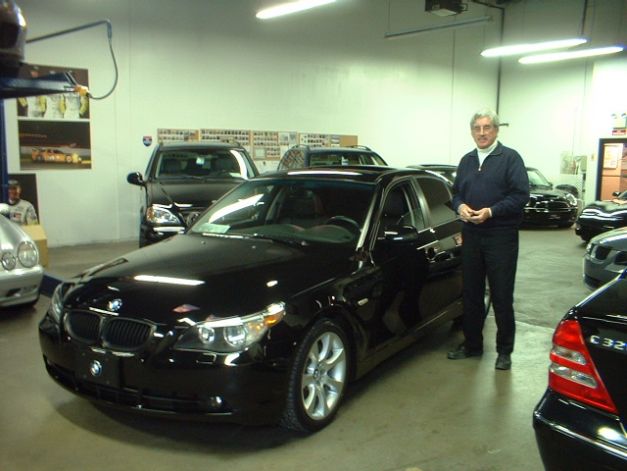 Ho-Choong Chang, MD from Linwood, New Jersey
"Dear Franck

Please accept this letter of profound thanks for finding for me the car of my dreams. Ever since I was a young boy, I have always dreamt of one day owning an exotic super car like a Ferrari, Lamborghini or Porsche. Pictures of such cars always seemed to find their way onto the walls of my childhood bedroom and college dormitory room. Now that I am a proud owner of a Porsche 911, I almost can't believe that it is true.

The joy of owning such a fine car, I believe, is obvious and needs no explanation. However, perhaps more important, is the process by which you find such a car. Hopefully the journey towards finding the right car is just as enjoyable as the joy of ownership itself.

In this case, I believe that much is true. From start to finish, I have been impressed with your level of expertise, attention to detail, and commitment to follow through, even after the papers have been signed. Your professional service has reminded me that, in life, sometimes it is the intangibles that make the experience palpable. From at auction, real time photos sent to my phone to personally inspecting and driving the vehicle, and then, making recommendations (e.g., new tires, etc.) based on this and on to interfacing with the local Porsche dealership to register the vehicle's under warranty status are just a few examples of how your service has gone beyond the typical mediocrity we see in the industry today. I would have absolutely no hesitation or reservations about recommending you to both perfect strangers as well as my closest friends.

The Porsche 911 exhaust note is a siren song, indeed, singular and stirring to the automobile enthusiast's spirit. It is in this spirit that I thank you again for your exemplary service, similarly stellar and indelible in its impressiveness."
Sincerely yours,
Ho-Choong Chang, MD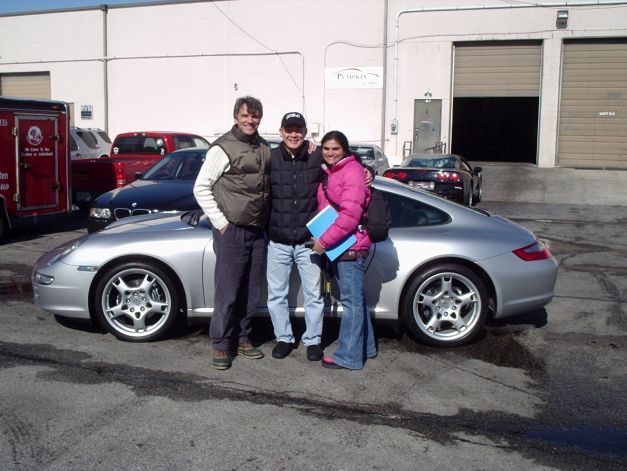 R. Justin McNeill from Freehold, New Jersey
"Thank you for everything you and your staff did for me in purchasing my first Ferrari. It was truly a pleasure and the car is an amazing piece of art. What impressed me the most was your personal involvement with helping me to decide on buying this car. Every step, from the first test drive to signing the final paperwork, was done with honesty and professionalism. Thank you again for this is an amazing experience, giving me a truly amazing car."
Your new customer,
R. Justin McNeill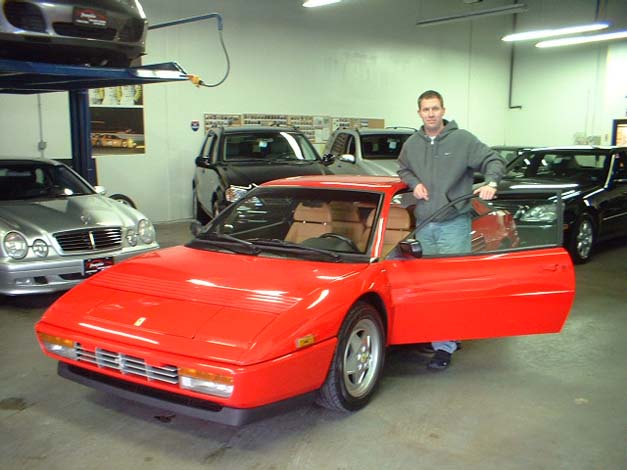 Luis Cordova from Ridgewood, New York
"Franck, here are the pictures from earlier today that you asked for. One is the two of us together. The other is you autographing my car. Once you get your website up and running, send me a link, I'd love to have a look at it. Thanks again for today, the car is everything I asked for. Also please thank Amanda for me again. She's a delight to deal with!"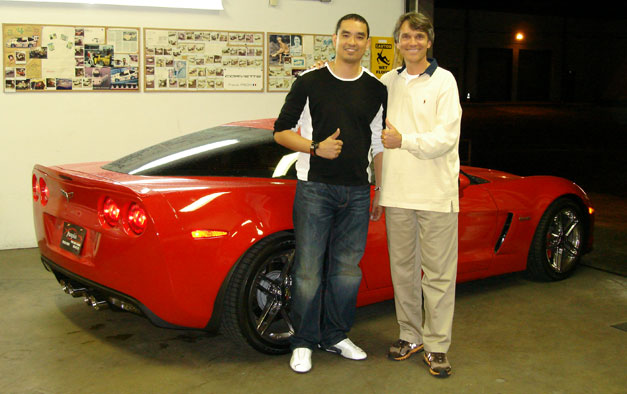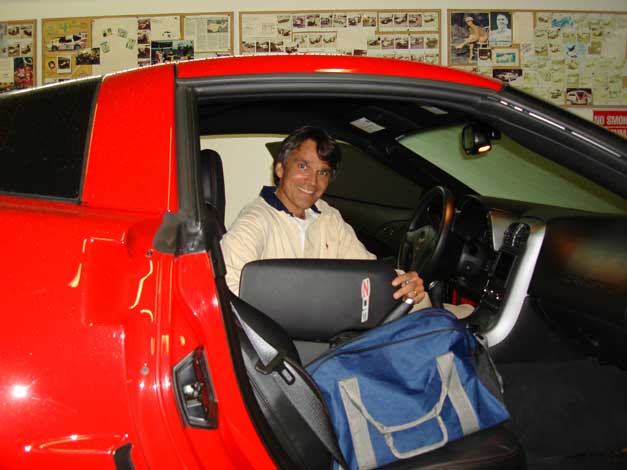 Al Gracco from Egg Harbor Township, New Jersey
"I'm a very satisfied customer of Pumpkin Fine Cars & Exotics because Franck Freon stands behind every car he sells 100%. I feel completely at ease buying a car from Franck, considering how particular I am about the condition and quality of the cars I buy and I've been pleased with Franck's services. I've been a loyal customer and have purchased 3 high-end cars in the past year without a problem. Buy your cars from Franck, and you won't be disappointed!"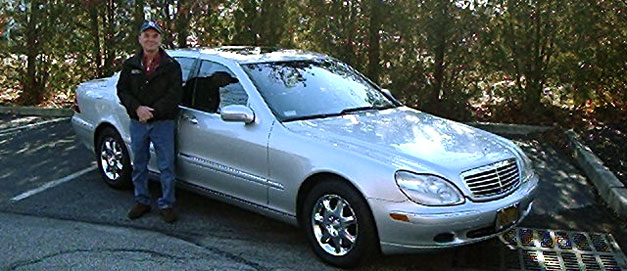 Deborah Mecca from Cherry Hill, New Jersey
"Thank you for the excellent customer service you provided me during the purchase of my 2001 ML320 SUV. You made the sale go smooth and very efficiently. I drove the car home the night I bought it in the dark so at first it took a little getting used to. I've driven the car to and from work these last two weeks and I love it.

The Bose sound system is fantastic. Heated seats will be great on cold mornings. The SUV will be good for me visiting my family in western PA where there it snows a lot and I have read the ML320 is excellent in bad weather.

This is my second experience with Pumpkin and I will continue purchasing cars through you and never used a regular large dealership again. Thank you again for your assistance and your offer of future customer service should I have any problems or issues with the vehicle."
Ash Varghese from Yonkers, New York
"Franck, thank you so much. You are one of the best people we have EVER dealt with, hope business is going great for you."
John Kotakis from Egg Harbor Twp, New Jersey
"Honesty, Integrity, True Gentleman - 3 years and 9 cars later and Franck still makes buying a car an easy and painless experience."
Rich Jacobus from Princeton & Hammonton, New Jersey
"My Wife and I have collected cars for many years. We bought our first Rolls Royce from Franck, after friends recommended his dealership. Now, five years later, we have purchased 17 vehicles from Pumpkin Classic Cars. Every car, whether old or new, has been absolutely perfect and we continue to patronize Pumpkin, as well as recommend him to friends and associates. In an industry where slick talkers and plaid jackets are the norm; Franck stands alone as an honest, ethical and professional auto dealer."
<< prev
- page 9 of 10 -
next >>
Contact us if you have any questions.