Customer Testimonials
At Pumpkin Fine Cars & Exotics, our customers are our highest priority and it is our goal to provide them high quality vehicles at great prices. Based on Franck Freon's experience, our thorough Pumpkin Certification process and Franck's approach of fair and honest dealings, we are able to achieve this goal. But don't take our word for it, read what our satisfied customers are saying about us!
Jeff Hilgert from Rio Grande, New Jersey
"Great selection of vehicles and outstanding support!"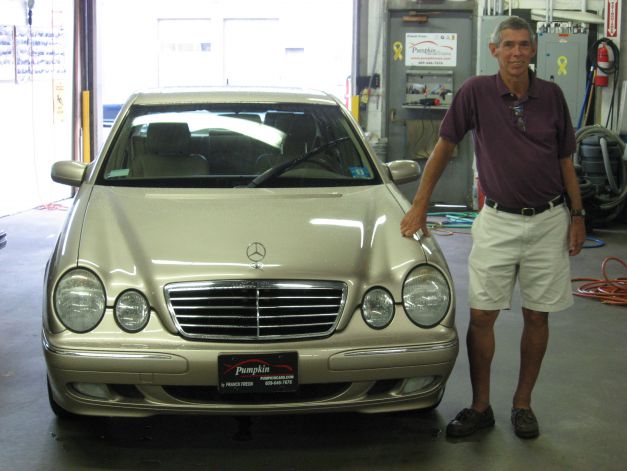 Iryna Makarevich from Ventnor City , New Jersey
"Nicest people in the world work here! I really enjoyed the process! Fast, professional and very friendly! Thank You!"
Sincerely
Iryna Makarevich
Nike Kuponiyi from Egg Harbor Township , New Jersey
"I am more than pleased about my purchase with Pumpkin Fine Cars. Beautiful cars in even better condition. If you are ever looking for a new car, Pumpkin should be your first choice!"
Sincerely
Nike Kuponiyi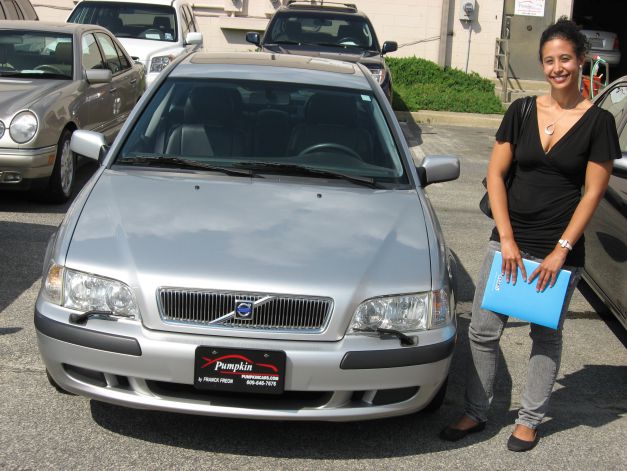 Shelly Williams from Absecon, New Jersey
"The best service I have ever had. Pumpkin takes a personal interest in you and takes care of you. And the owner, Mr. Franck Freon is the best! Pumpkin is the best car dealer in town!"
Sincerely
Shelly Williams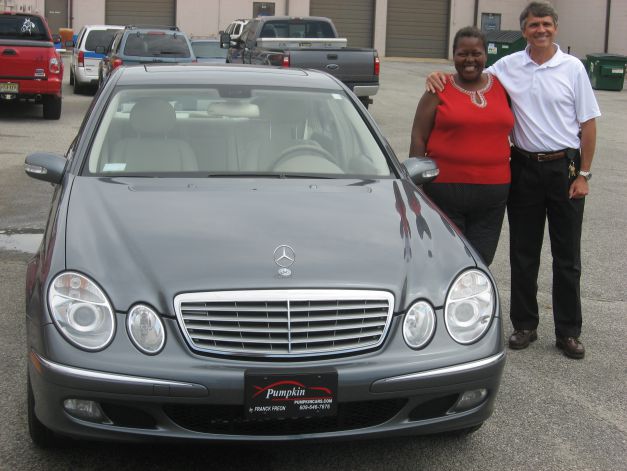 James Olson from San Diego, California
"I love the car! It rides and drives like a dream as I got it a week ago Thursday. It was an absolute pleasure to deal with all of you at Pumpkin, as you know I bought the car over the internet. My wife thought I was crazy but I felt, with your website and the conversations that we had, that I was dealing with people I could trust. I ended up buying a great car at a great price from people I would do it all over again with. "
Thanks!
James Olson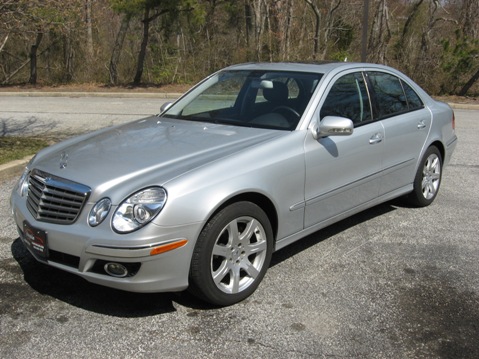 J & L from Cape May Court House, New Jersey
" We got our tags and our Surprise!!! You did not have to do that. That is really nice of you two. Anyway, attached is a pic of our driveway with our Pumpkins! We saw your new E350 and drove it too, of course. As always, we will be keeping track of what you got new. "
Thanks again.!
J & L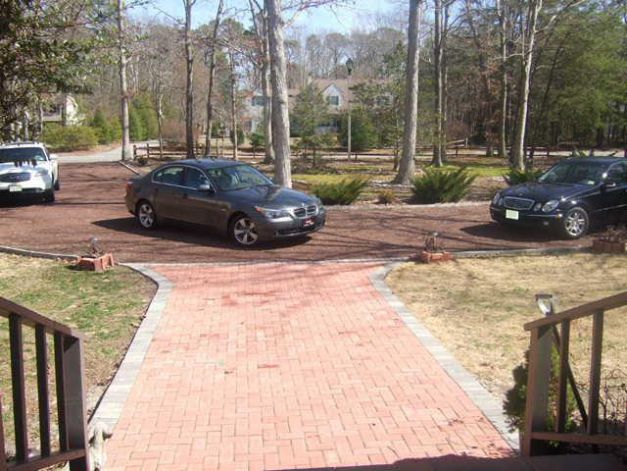 Douglas Hodgkin from Winchester, Kentucky
"You are an honorable man Mr. Freon! You were perfectly accurate when you said that I would be "THRILLED"!!! I am sincerely grateful for this transaction...

I am so blown away by this car....
Our local BMW expert told me that the front struts are perfectly fine! :-). He was VERY impressed with my car! Saying that he believes that this 850 is a "perfect example" of the 8 Series. And said it could be one of the best M73 850ci's nation-wide.

I don't think that's far-fetched, because over a period of six months, I looked at 60-70 different 8 Series, and... There is nothing out there, at this price, that comes even close to this car.

Please know that I am sincerely grateful for Pumpkin Cars!

And I MEAN it!!!!"
=)
Douglas Hodgkin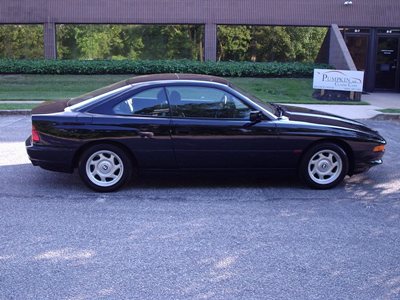 Cheryl Harrigan from Milmay, New Jersey
"Dear Franck and Pumpkin Family,

John and I just wanted to thank Pumpkin Fine Cars & Exotics for a pleasurable experience during the purchase of our Honda Accord EX. The process was easy, painless, and not time consuming at all. From test driving the car through the purchase process, it was much easier than any car purchase we have made to date. I don't think we will buy new again.....this was a very easy, honest process with no hidden fees or surprises. I am sure we will be buying a car from Pumpkin Fine Cars & Exotics again!"
Thank You!
Cheryl Harrigan
Rocco Decicco from Philadelphia, Pennsylvania
"Dealing with Pumpkin was the easiest and most pleasurable experience I ever had buying a car. I could tell immediately how trustworthy everyone was and how passionate Franck is about providing you a top notch product at a great value. They even picked me up at the train station in a snow storm on the day I picked up my car!"
Love the TSX!
Rocco Decicco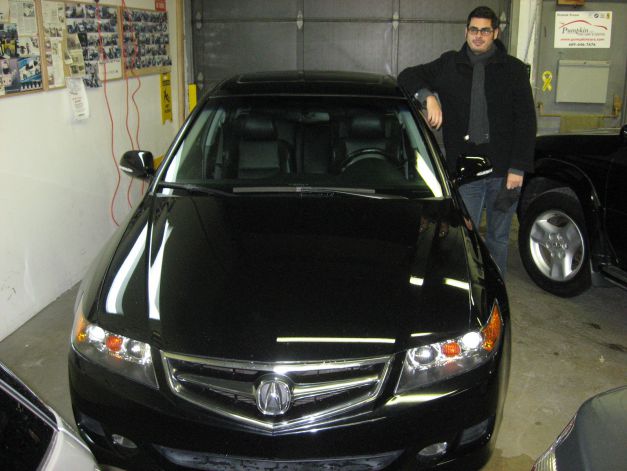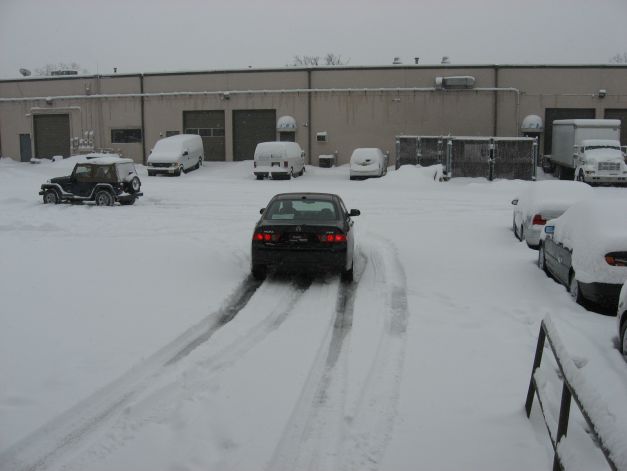 Walter Giles from Piscataway, New Jersey
"Hi Pumpkin Cars Family,
I received the call from my Insurance Company saying they had to "Total MY CAR" (E Class Mercedes Benz) I said "OH NO" to my car being totaled & "OH NO" to going car shopping!! I went on-line for weeks at a time, I received phone call after phone call from car dealerships about what & how they were going to get me the best deal around. My credit was not the best, but whose is in this bad economy. I wasted time and money waiting for dealers to get me approved for a loan or even call me back. Finally I clicked on a car dealership called "PUMPKIN CARS". My sales person's name was Greg. I explained what kind of car I was looking for and they had it. He submitted my credit application and said "Walter the bank did not approve your application, but we have another loan company that helps people in your situation." Greg sent them the application, within one hour the loan company called and the next day I had the loan and my car. Greg was so relaxed, never pressured me into purchasing a car just so he could make a sale. Greg took his time and when he said he was going to call, he called. At first I told Greg I wanted a BMW, two days later I called Greg and told him I changed my mind. Greg said "no problem, we'll take care of that for you". I was so happy I couldn't wait until I picked it up!! I work in the hospitality industry as a Sous Chef. Making people happy and relaxed is at a premium in that industry. My friend and I were walking up to the entrance of Pumpkin, and this is where I was knocked out of my shoes… We walked up to the Owner, Franck Freon, as he was checking out the car for the final preparation. I never felt such a warm greeting before at a car dealership. He took his time explaining the ins & outs of the car as we walked to the office. The cars that they had were breathtaking; Mercedes Benz, BMW, Acura's. You name it and they had it for a "GREAT PRICE"! All the cars were clean and ready to go. I'd never seen anything like it. We walked into the office where we were met by Amanda, one of the nicest people I have every met, smiling delightfully. She had my paper work ready to go. We were there for about half-an-hour talking with Franck & Amanda after we signed the papers. It was the most pleasant car buying experience I have ever had. Now, for the car I purchased, an E-Class Mercedes Benz…"Perfect"!! I have purchased three cars in my life time and never have I seen a car that looks as brand new as this one. The inside…"Perfect", the outside…"Perfect". Words cannot express how happy I am with the purchase of my E-Class Mercedes Benz from Pumpkin Cars. Thank you Greg for your hard work on my behalf. Thank you Amanda for your professionalism and thank you, Franck for working with me to get me in this car!"
President/CEO, Gospel Central Music Video TV Show
Walter Giles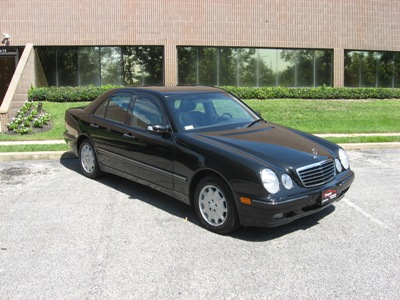 << prev
- page 6 of 10 -
next >>
Contact us if you have any questions.