"Proud Sponsor"
Pumpkin Fine Cars & Exotics
loves to give back to the community through numerous charities and events throughout the year. Since the owners,
Franck and Gina Freon
grew up playing sports and now have
children
who are involved in sports, the athletic programs throughout Atlantic and Cape May Counties hold a special place in their hearts. These sport-related organizations raise money for various reasons. Most importantly, they give each and every child the opportunity to learn valuable skills such as teamwork, dedication, reliability, honesty and genuine hard work. These sponsorships give the teams the money they need for uniforms, tournaments,
transportation
to and from their games. With the economy in the shape that it is in, some children would not be able to participate in sports without the contributions and help of the
local area busines
ses
.
Since it is currently basketball season, we want to share with you a little bit about the basketball organizations that
Pumpkin Fine Cars & Exotics
donates to. Pumpkin gives to organizations such as
Battle By The Bay
, which is a state-wide High School Basketball Tournament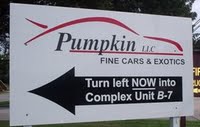 put on by Atlantic City High School and sponsored by local businesses. It is put on every
year in the month of February. The weekend of the tournament, hundreds of Jersey resident basketball players and their families and friends come out to watch the schools battle it out on the courts for pride and glory. Sadly, this year's events were cut short due to the extreme weather in South Jersey! We are looking forward to next year's Battle by the Bay!
The
Linwood Lasar
program is the basketball organization in the city of Linwood, New Jersey. This program is a recreation league for children grades 1 thru 8. It gives children the opportunity to play basketball with their friends and neighbors in a friendly, educational format. More recently, Pumpkin has also donated to the
Pleasantville High School
boys basketball team. They are raising money for their organization through advertising local businesses in their season schedules and posters put up at their games. We are proud to support such talented young althletes and their fiercely dedicated coaches who give a lot of their personal time and effort to teach the kids.
Labels: basketball tournaments, car donations, CARS, certified used cars, donations, organizations