2007 Mercedes S550
Welcome to
Pumpkin Fine Cars
and Exotics blog. In todays version of our "car of the day" we feature a
2007 Mercedes S550
that we just added to our inventory. 8 cylinder 5.5 liter engine equipped with a Navigation System, power and heated seats (with memory positioning), auto dim rear view mirrors, power rear sunshade, power mirrors, Xenon Headlights, Harmon Kardon Stereo System with a 6 disc CD changer. This Mercedes is also under factory warranty until April 2010 or 50K miles which ever comes first.
See what Franck Freon, owner of Pumpkin Fine Cars and Exotics wrote about it :
"During all the years of racing I've had the chance to drive very powerful cars but I am still pleasantly surprised every time I discover a new generation of S-class. The 2007 new body style S550 achieves that again. I thought the 2000-2006 S-class generation was really impressive but Mercedes Benz did it again.....the car that showed up in 2007 is even better. I was specially impressed with the torque and power of the new 5.5 liter engine. It pulls strong all the time and I have to say that the new 7-speed automatic gearbox is close to perfection. You can also shift gears from the buttons on the steering wheel if you wish. My second surprise was to find out that you can make a car of that power and size even quieter that the previous generation. The new S550 glides in the air and you better watch your speedometer if you want to keep your license alive! As always, the brakes are ultra strong and the safety features are the best that the auto industry offers now-a-days. The space inside the vehicle is generous and the overall look of the S550 is second to none with a very unique style that will most likely be copied soon by luxury japanese brands. That's the price you pay when you make the best cars around, I guess!
So if you are now in the mood to buy your next luxury full-size sedan, and save tons of money compared to buying a new one, give us a call or stop by the
pumpkincars.com showroom
, we have what you are looking for! See you soon on the Pumpkin blog!" - Franck.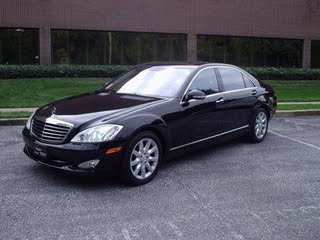 Check out the rest of our pristine pre-owned inventory!
Labels: mercedes benz, mercedes-benz in south jersey, pre-owned mercedes, s550, used cars in south jersey